"it's like Modern Warfare 3 had a kid with Battlefeld 3 and Valve was it's baby sitter." -Collector1
Call of Duty: Come Out Fighting, is a game made by the new Collector Software and the Valve Corporation.
Singleplayer
Edit
Comeing Soon
Soon
Difficulties
Edit
Recruit
Regular
Hardened
Veteran
Multiplayer
Edit
Multiplayer is like the pass 3 games from 2008-2010, except for some changes:
If a bullet bearly heads your head, your helmet comes off.
The Barrett .50cal is called the M82A1, can be found monted on some maps, and can kill you with one shot.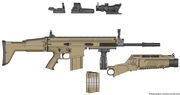 It will have total weapon customization, with more new things then BF3.
More soon
Multiplayer Maps
Edit
Comeing Soon
Call of Duty: Come Out Fighting/Weapons
Tier 1
Scavenger
Hardline- One less kill for killstreaks.

Hardline Pro- Longer time with killstreaks like UAV, Attack Helicopter, or Chopper Gunner.

Flak Jacket- Reduce explosive damage.
Ninja
SitRep
Tier 2
Slight of Hand
Warlord
Steady Aim
Double Tap
Tier 3
Deathstreaks
Curse- When you die, a killer gas comes out of your body.
Martyrdom- When you die, you drop a live grenade.
Soundtrack
Edit
See here.
Achievements/Trophies
Edit
A Good Start- Go through training.
You Guys are like Paper- Kill 3 enemies with a single round.