Aleksandr Bullski
is the Primary Antagonist of
Squad Beta
. He is the corrupt Commander of the Russian Army controlling it under sworn secrecy as
Bullski's Army
.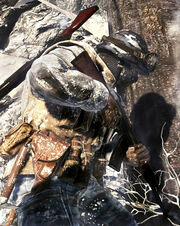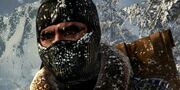 Bullski never appeared in public, whenever he left his base he wore a balaclava.
Pre-Squad Beta
Early Life
At a young age, Aleksandr was a child prodigy. His father was a hunter, he possessed many rifles and knives, which Aleksandr found access to and killed many creatures. During the Cold War, he mercilessly slaughtered Americans by crippling then and slitting their throats. He assumed a de facto leadership over the Russian Army.
Squad Beta
Prolouge
Aleksandr never explicitly appeared in the "Prolouge" however a hideout belonging to him was raided by the 39th Division.
Act I
Aleksandr never appeared or mentioned in "Act I".
Act II
Aleksandr is set to appear in the finale of Squad Beta where there is a 3-way battle between Bullski's Army, Squad Beta and the Insurgents